This is not your Grandma's guitar.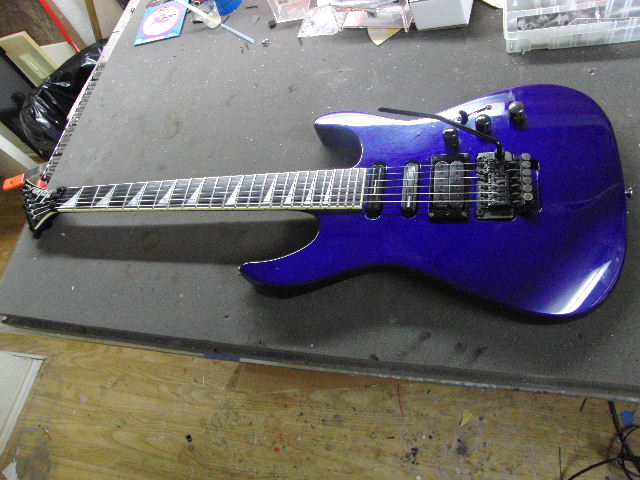 This is the Japanese made neck through Soloist with *ebony* sharktooth fretboard and licensed Floyd Rose tremolo. Super jumbo frets. Super low and mega fast action. These models are as nice or nicer than the best USA made Soloists. Fit and finish is off the charts. Better than my Gibson!!!

*All* new electronics!!! Everything is *new* inside....
Pots, 5-way switch, 1/4" jack, orange drop capacitor all new. The guitar electronics are fully enclosed and copper shielded. The controls are and wired for common ground with a capacitor for shock guard. The shield is active to ground. This makes the guitar super quiet and hum/buzz free. Great for high gain performances.
All new pickups.
Humbucker=Dimarzio Super Distortion 3 (as per Vivian Campbell).
Middle= Air Norton Dimarzio (John Petrucci)
Neck=Duncan Hot Rail (Iron Maiden)
(I will include the original active pickups also)
The tremolo is is set up with the ESP Arm Adjuster stabilizer and tone generator. This $100 gadget is worth its weight in gold. Not only does it stabilize the Floyd so it does not go out of tune or go flat during palm mutes it acts as a contact point from the fulcrum to the body of the guitar. The tremolo is still full floating up and down and it sounds like a hard tail... If you would rather have the guitar without the ESP Arm Adjuster
I will take it off and set it back up without it and take $750 for the guitar.
Comes with factory Jackson chainsaw style hard case.
I made a web page to view all the photos...
http://www.flystunt.com/Jackson/Jackson.htm