Finally got some video of my drive last night (thanks to Jones) - each is with a 172-175g Champ Orc. I didn't measure the distance on any of them, but I'd guess they were all around 360-380'. I've been using a 4-finger power grip for some time now, but just switched to a kinda 4-finger modified stack/fork grip last week...my pinky and index finger are the only ones touching the inside of the rim, and the ring and middle fingers are stacked next to the pinky, touching the bottom of the flight plate. From what I've read, I think this grip will give me a little more flexibility in the wrist, which I'm hoping will help develop better wrist extension. Here's a pic for clarification: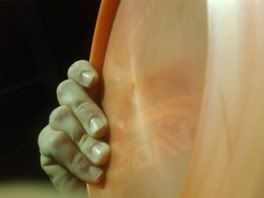 We recorded from 3 angles...left side, right side, and back side. The one taken from the right side felt the best out of all them, and the one from the rear was the weakest and had the most nose-up from what I can tell.
Left Side
Right Side
Back Side
Here's what I found so far that needs work:
Blake already pointed out that my plant foot is about 6" too far out...and I can finally see what he's talking about. I also noticed that my reach-back seems to be early...from everything I've read, it shouldnt begin until after my plant foot is down. I also noticed that I'm not pulling close enough to my chest. What else?
I just started doing the right-pec dril last weekend, and I've got 2 other drills that Blake and Brad Walker came up with, but I'm having trouble executing them properly (more vids to come for this stuff). All comments, critiques, tips, drills, etc are much appreciated.