This is the new bag coming out from Innova later this summer. Details are below the picture.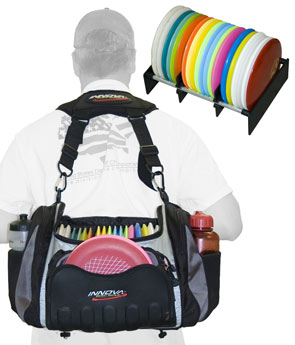 The newest bag combines some of our most requested bag features, plus some cool features that simply have to be tested to realize their functionality! The Champion Bag is the ultimate bag for the disc golf superstar, whether they are pro or am. Available with dual shoulder straps or with single shoulder strap, this bag uses high tech materials and craftsmanship to offer players true functionality out on the course. Holds up to 20 discs between main compartment and putter pocket.
Aluminum internal frame with snap in dividers
Neoprene Bottlesockets grab your water bottle regardless of size. They retract when not in use too!
Armored Putter Pouch - adjustable for one or multiple discs, made of tough molded vinyl
Cel phone/MP3 pocket - easy access
3 big pockets and a secret pocket in the back.
Padded shoulder straps designed to integrate with the Champion bag
Umbrella holder
Cleat Feet - Keeps your bag out of the muck
**Info from Innova Email**