I figured out how to do this reading Acid's Dye Tutorial, and figured I'd post some results to share ideas or whatnot.
I'm going to start by posting my first attempt, which successfully made a disc I don't use more visible in my closet (It's a Crystal Rogue). I also found out why it's better to put contact info. inside the rim.... (The double image effect is from the shadow on the countertop.)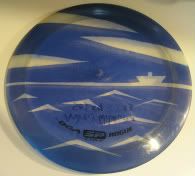 Then, I figured I'd do a putter (HPP Warlock) and pretend it was a close-up on the same image:
These were both navy blue RIT; I left the second one in longer for some reason thinking that would make it more blue than purple....
If these link attempts works, I'll post others....