Two more coulda been better dye jobs.
The first is a Borg cube on a fuscia Champion Teebird. First, I did a purple cloud background with shaving cream. then, decided to not calculate dye delay times and left the second dip in WAY too long. Four dips total. Had to take a backlit pic otherwise it's mostly just a dark blob in the middle.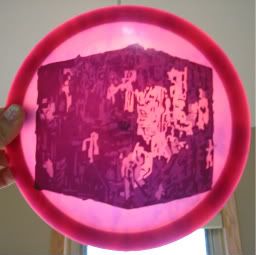 next, Zartan jumping over a Champion Glow Gator. All went excellent with the three stages of black (wish I'd taken a pic) but all went wrong when I recovered in vaseline (after the Elmer's glue fail) and added tan. Got impatient at the darkening of the first dip (two total) and turned up the heat slightly too much. The vaseline congealed into lumps and gave Zartan a camo effect which is actually kinda cool if I'd meant it. Worse, when I pulled off the contact paper, most of the Gator from the original Innova stamp pulled off with it....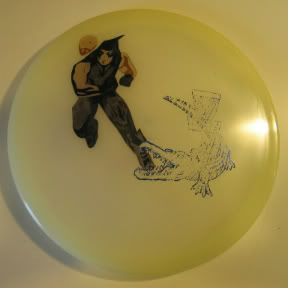 Sure wish I'd done the right arm shading in darker tan like I did the left arm....